KONE Elevators | Lifts An efficient and safe elevator solution for your building.
Did you know that KONE manufactured & installed the world's largest elevator at Jio World Centre, Mumbai? Manufactured in Finland, serving 5 floors, this 16 Ton (16,000 Kg) Elevator is designed to transport 213 passengers at once with a cabin area of 25.78 m².
Mini Machine Room Type (MRA)
KONE MiniSpace is a compact machine room elevator solution for buildings with high safety and comfort requirements, offering diverse interiors design themes, improved people flow and excellent energy efficiency.
Max. Speed: 10 m/s
Max. travel: 126F / 500 m
Max. load: 4000 kg
Max. persons: Up to 21
Max. elevators in group: 8
*For higher specifications, please contact us.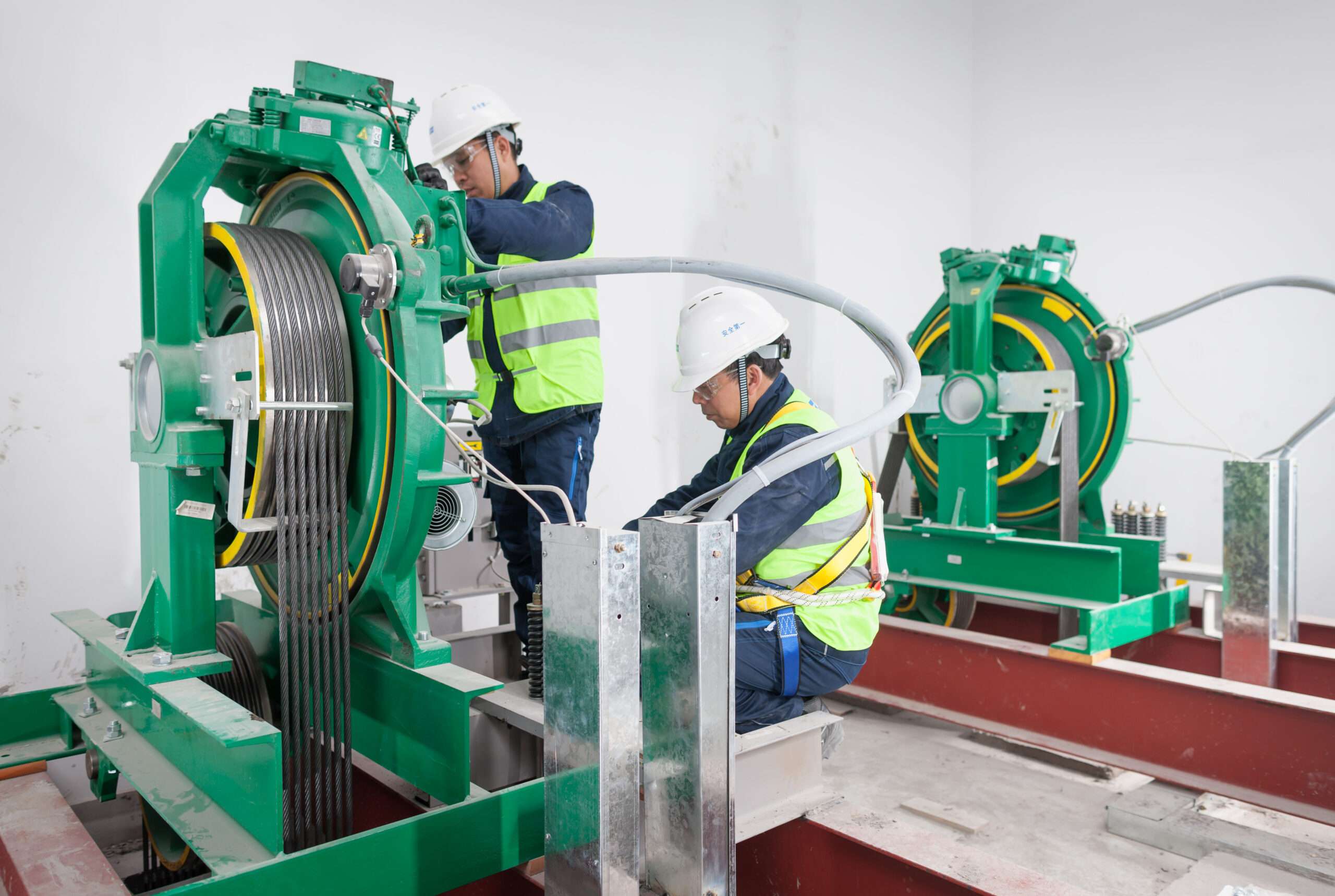 KONE MonoSpace is the world's first machine room less elevator. It is the benchmark for high quality MRL elevators for residential and commercial buildings with industry leading energy efficiency.
Speed: 3.0 m/s
Max. travel: 48F 120 m
Max. load: 2500 kg
Max. elevators in group: 6
*For higher specifications, please contact us.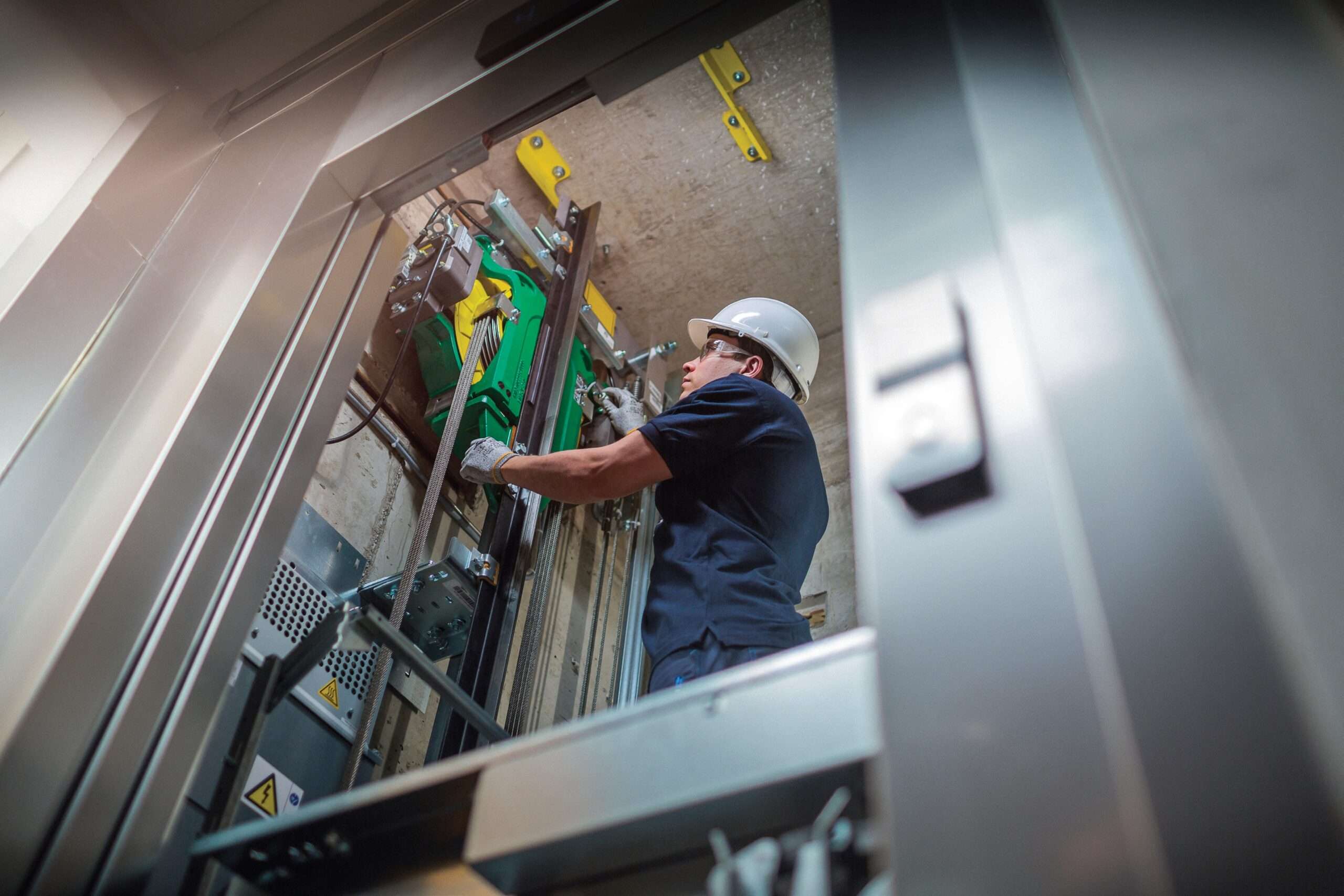 Heavy duty elevator for services & goods
KONE TranSys is a powerful and high-performance solution ideal for a multitude of demanding vertical freight transportation tasks in a variety of buildings: supermarkets, shopping malls, airports, warehouses, hospitals, hotels, industrial plants, and offices.
Speed: 1.0 m/s
Max. travel: 40 m
Max. load: 4000 kg
Max. persons: Up to 53
Max. elevators in group: 2
*For higher specifications, please contact us.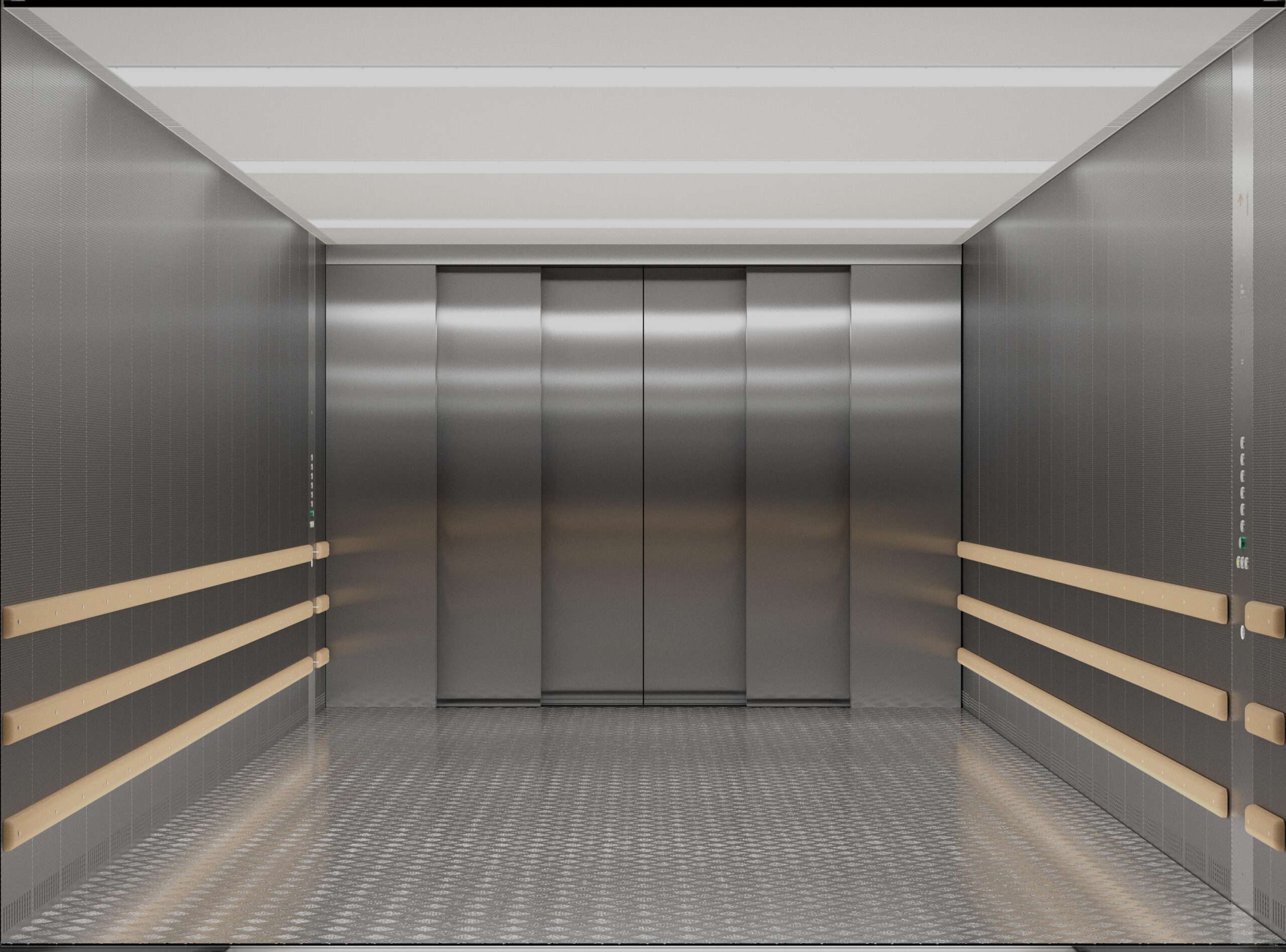 Designed especially for hospital environments
Safe, smooth and reliable elevator designed especially for hospitals, with a solid set of features for optimum performance in the highly demanding environment of patient transportation.
Speed: 2.0 m/s
Max. travel: 75 m
Max. load: 2500 kg
Max. persons: Up to 33
Max. elevators in group: 6
*For higher specifications, please contact us.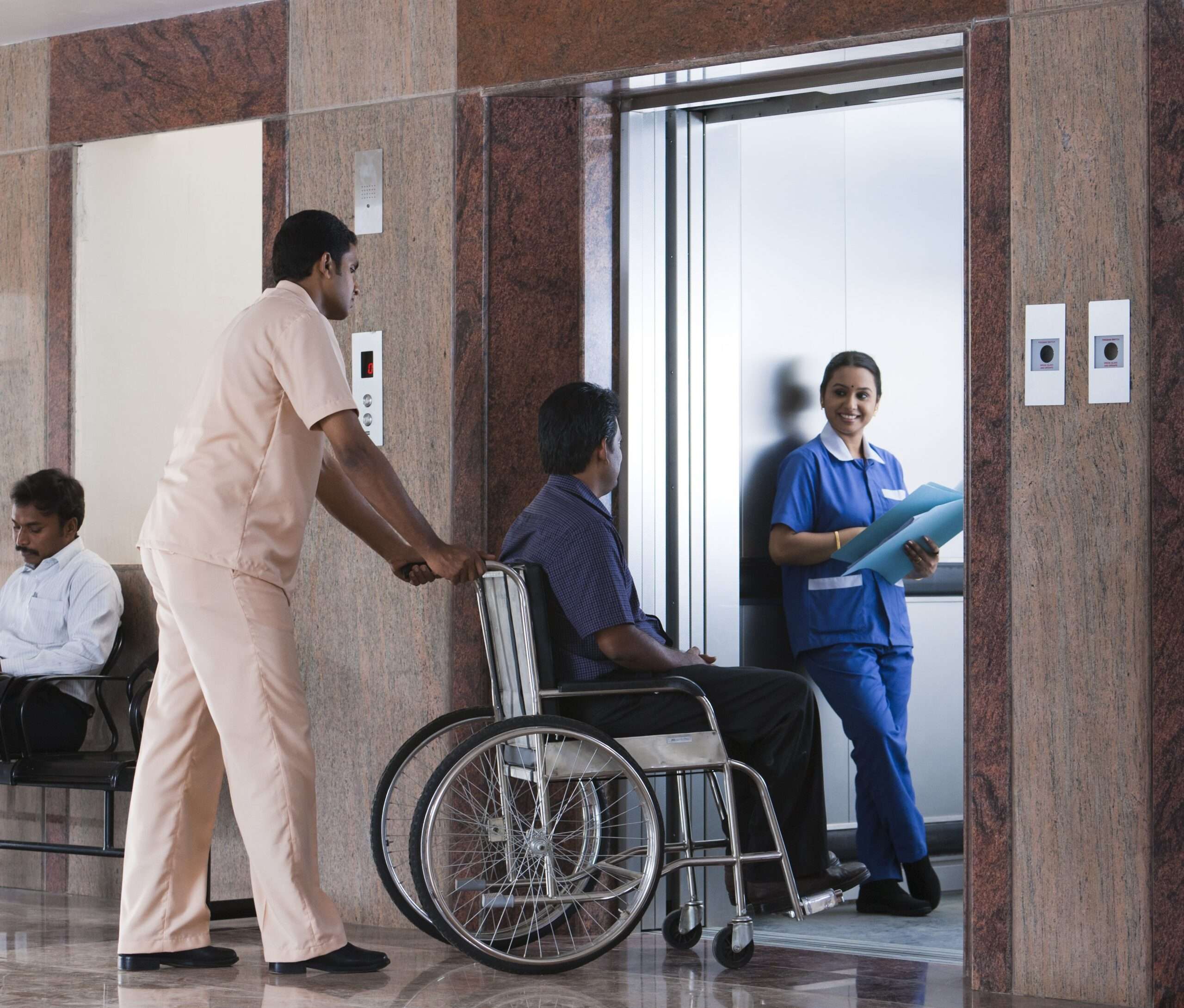 The KONE EcoDisc hoisting motor is the heart of KONE's elevator solutions. The revolutionary solution launched in 1996 has a proven track record of more than 800,000 units installations worldwide. With the constant improvements to the solution, the renewed KONE EcoDisc provides more energy-efficient technology (innovative copper winding system reduces the amount of energy lost as heat), compact installation (frees up valuable floor space or allows for a more spacious, higher-capacity car) and better ride comfort (VVVF variable-frequency drive ensures a smooth, comfortable ride with superior acceleration/ deceleration profile, better floor-to-floor travel times, and precision leveling).
Smart, flexible solutions that every modern building should include to improve user experience and building management.
KONE Access – a scalable and flexible access control system.
KONE Destination – improved user comfort and optimized traffic handling.
KONE Information – effective communication channels for elevators and landings.
KONE Monitoring – monitor all your equipment from a single location.
With KONE's new intelligent 24/7 Connected Services we can now better predict, maintain and take action before breakage. For you it means improved safety, full transparency and ease of mind, because if something would happen, we'd already know.
Our growing number of People Flow Ecosystem partners are developing new innovations that make life even easier for tenants. Here are just a few examples:
Savioke Relay – an automated robotic delivery system for hotels, offices, and medical facilities.
BlindSquare – the world's leading navigation app for blind and visually impaired people.
Paint walls with light to create just the right mood, engage passengers with eye-catching full-wall ads and rolling social media updates, and enrich the elevator interior experience even further with sounds to match.
At KONE we have always been renowned for our revolutionary eco-efficient technology.
Our renewed elevator solution improves upon our already industry-leading energy consumption levels by an additional 35%.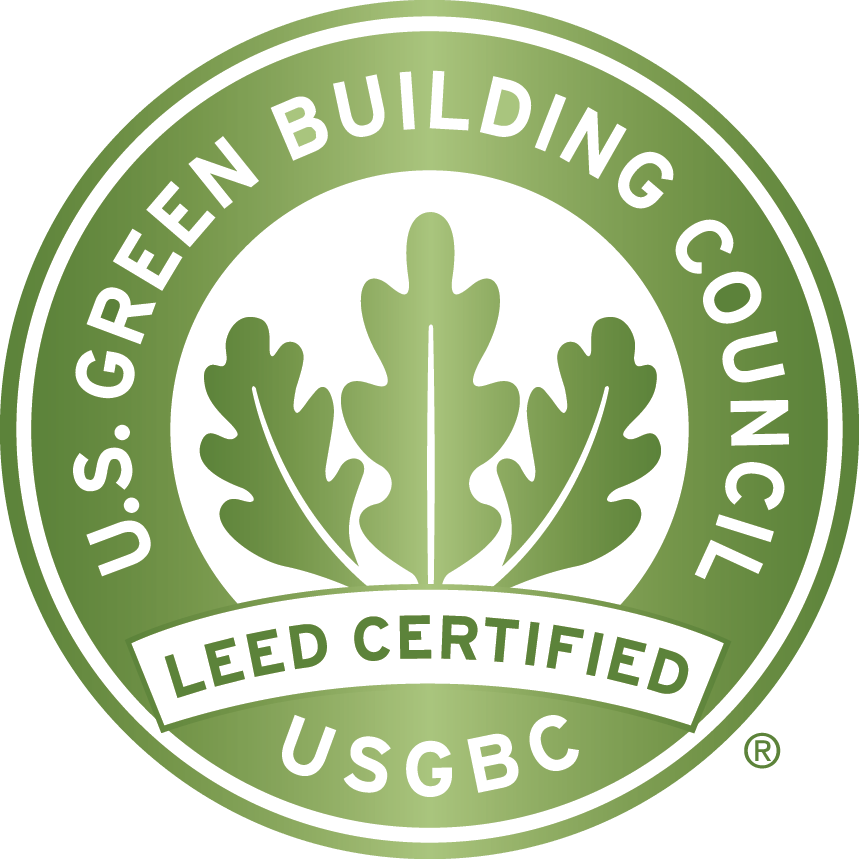 First in the industry to receive an A-class energy rating according to the VDI 4707 guideline – the benchmark for elevator energy efficiency.

Installing an eco-efficient KONE elevator solution can also help in achieving green buildings under LEED or BREEAM certification.
Our latest regenerative drive recycles energy for immediate reuse within the building and cuts power consumption.
These drives provide low harmonic distortion (typically below 5%) and reduced Radio Frequency Interference.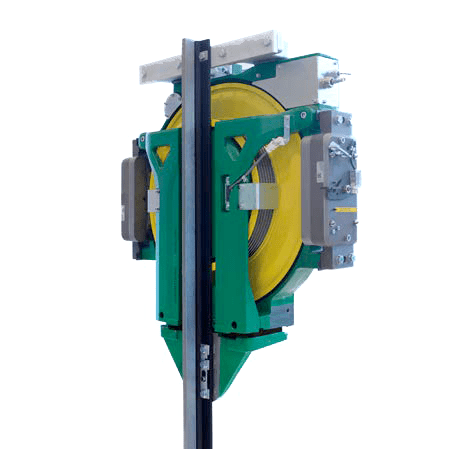 The renewed braking system ensures a comfortable, safe, quiet ride, while also minimizing noise transfer to the surrounding areas.

The new brake test functionality automatically checks brake condition daily. This helps to further improve safety and reliability.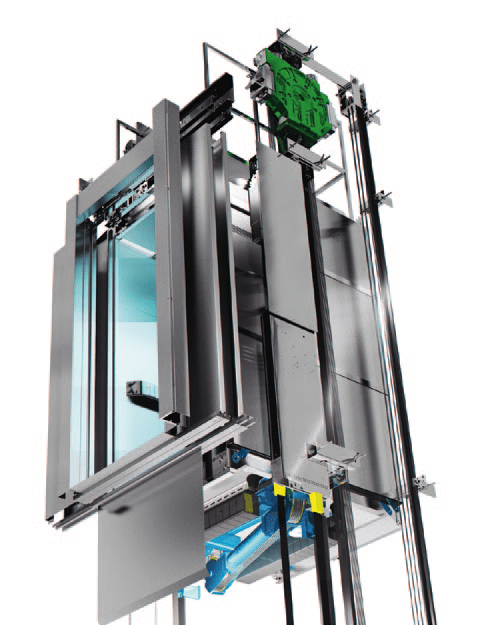 Quality guaranteed through ride-comfort testing of all elevators before handover – a service unique to KONE.

Enabled by the KONE EcoDisc hoisting machine and brakes along with an improved car structure and sound-isolated guide shoes.
The new KONE Design Collection – created by our award-winning design team – offers you a versatile set of contemporary, themed interiors to choose from. You can also create your own unique look and feel by mixing and matching our wide range of materials (over 1000+) and accessories allowing for millions of design combinations.
100 Years of Elevator Expertise
KONE is the industry leader in elevator and escalator innovation. We have a long history of
improving our customers' businesses and are Dedicated to People Flow™, creating the optimal solution to move people in your buildings efficiently, safely, and in comfort for generations to come. 

In addition to standard passenger elevators, KONE's technology is used for special applications such as service, scenic and bed elevators.
KONE provides elevator solutions for stand-alone houses, villas and high rise apartments. The KONE ECODISC motor includes daily automatic brake testing ensuring industry leading safety and ride comfort.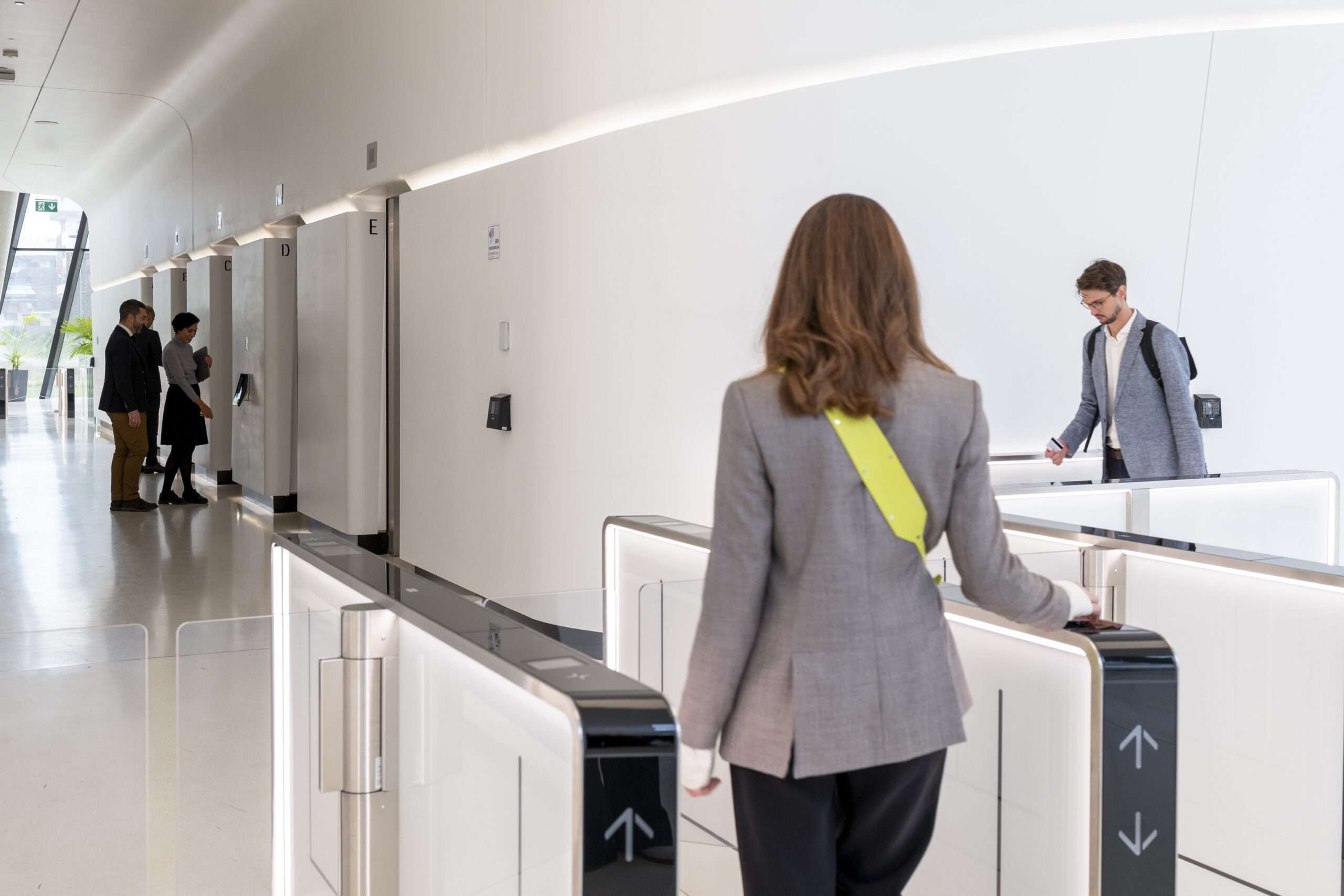 KONE elevators ensure minimized waiting time for any type of office complex particularly for mixed development buildings. KONE Polaris Destination Control Systems (DCS)) incorporates desired destination floors and the number of waiting passengers to significantly improve increased handling capacity, shorter journey times, fewer intermediate stops, and enhanced passenger comfort.
In retail, experience is everything. Keeping visitors and tenants happy is about delivering the best possible shopping experience, and this means keeping people and goods fl owing. KONE can help you turn people fl ow into cash fl ow – whether you're planning and designing a new facility or upgrading your existing equipment.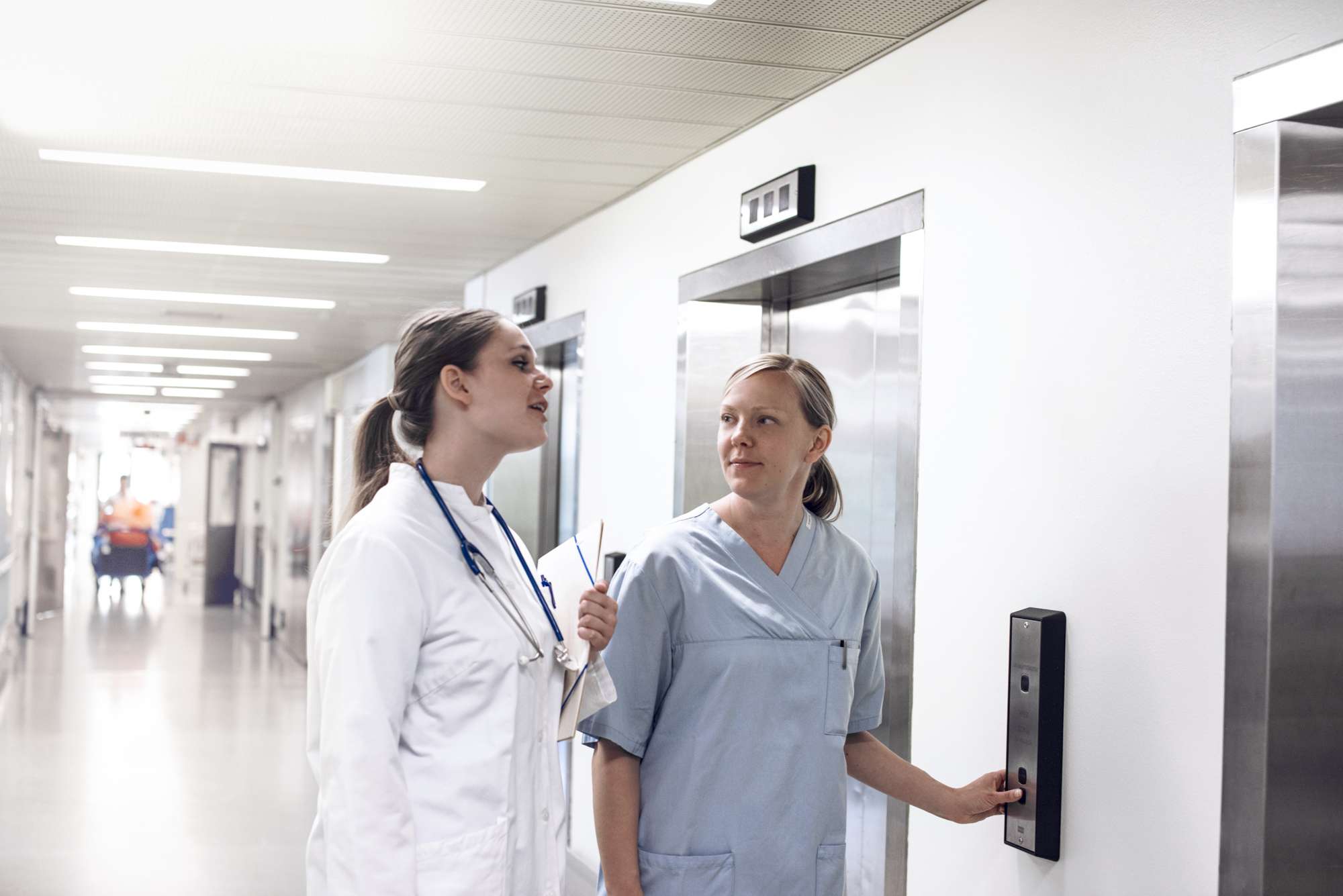 A modern hospital or medical facility offers many challenges for managing the fl ow of people and materials. Patients in beds need to be transported quickly and smoothly with accompanying staff and medical equipment. Food, laundry, medical supplies and equipment must be transported without interruption. Elevators are used by both patients and visitors, many of whom may have special mobility requirements.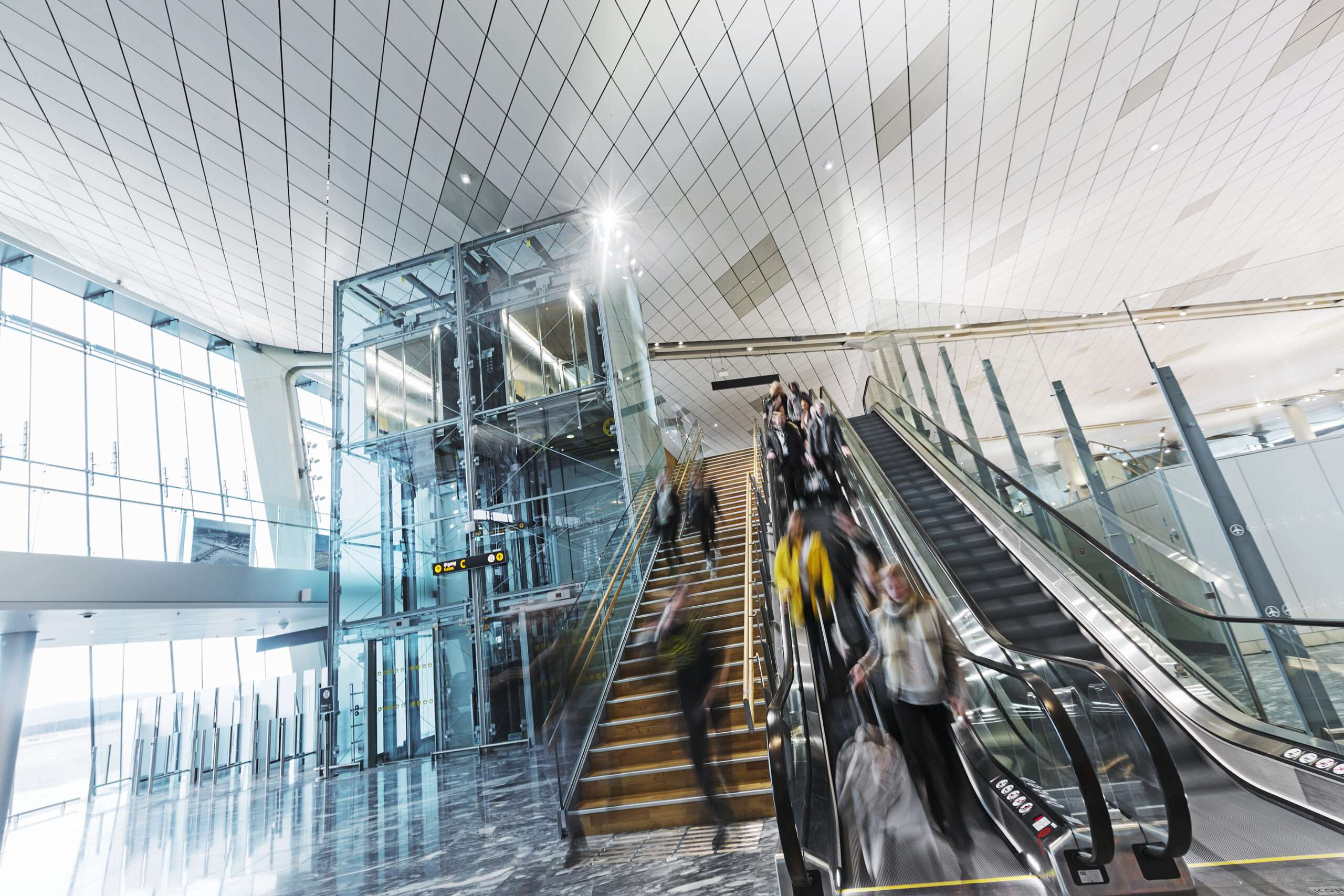 In airports, passengers need to be able to move quickly and conveniently between the check-in areas and departure gates in order to reach their aircraft in good time. KONE's heavy duty elevator, escalator and moving walk solutions help manage the flow of people and goods into and through the airport safely, reliably, and efficiently.
KONE's heavy duty solutions for public transport include indoor and outdoor elevators & escalators which are ideal for metro stations and large transit hubs. The equipment has limited down time and long service intervals allowing for continuous equipment use.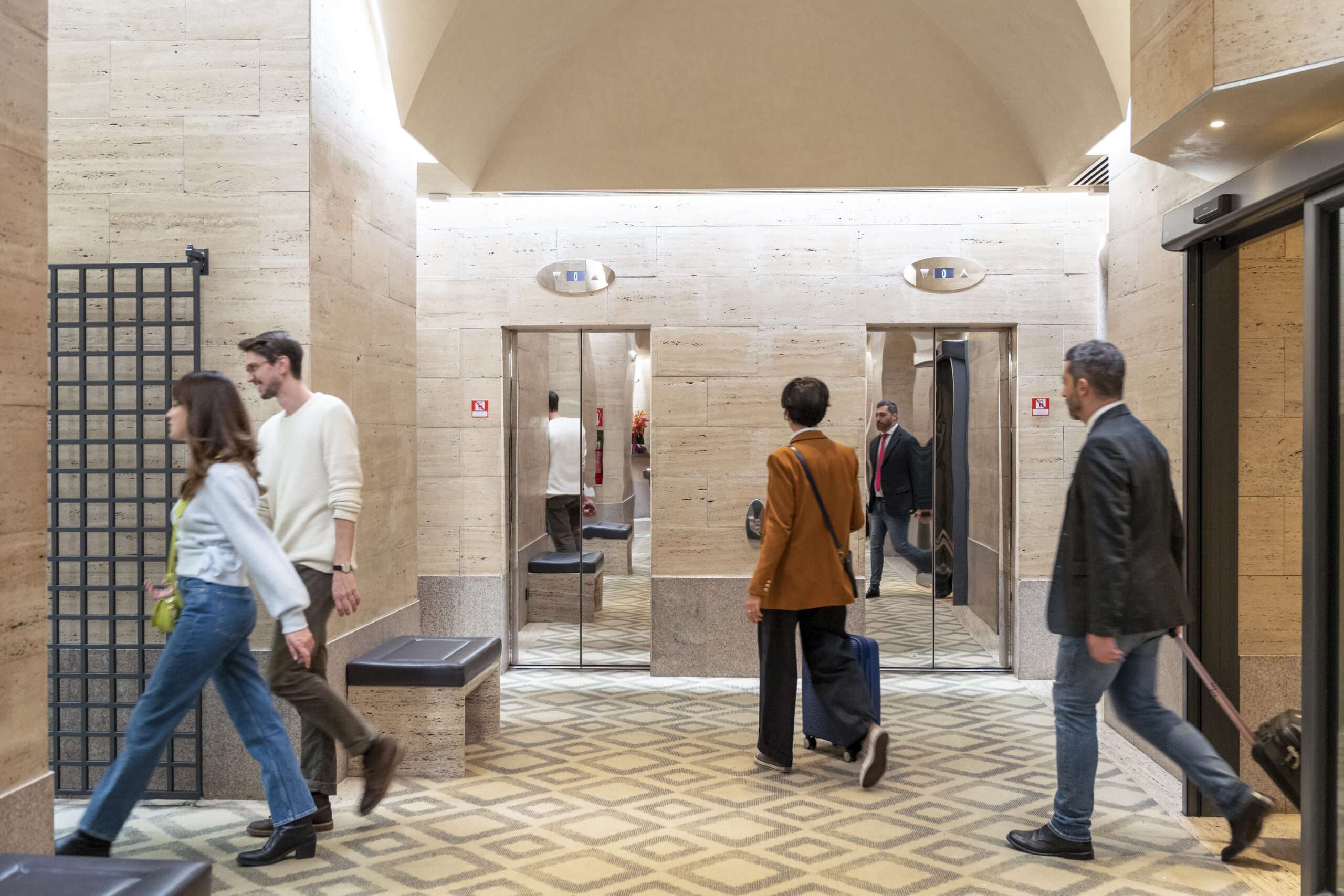 KONE is a preferred partner for many international hospitality companies. For example, KONE is affiliated with every Hilton Worldwide brand. It is currently working with over 400 Hilton properties and franchise owners around the globe. In terms of the service portfolio of hotels, over 50 percent of the equipment KONE maintains are from other manufacturers.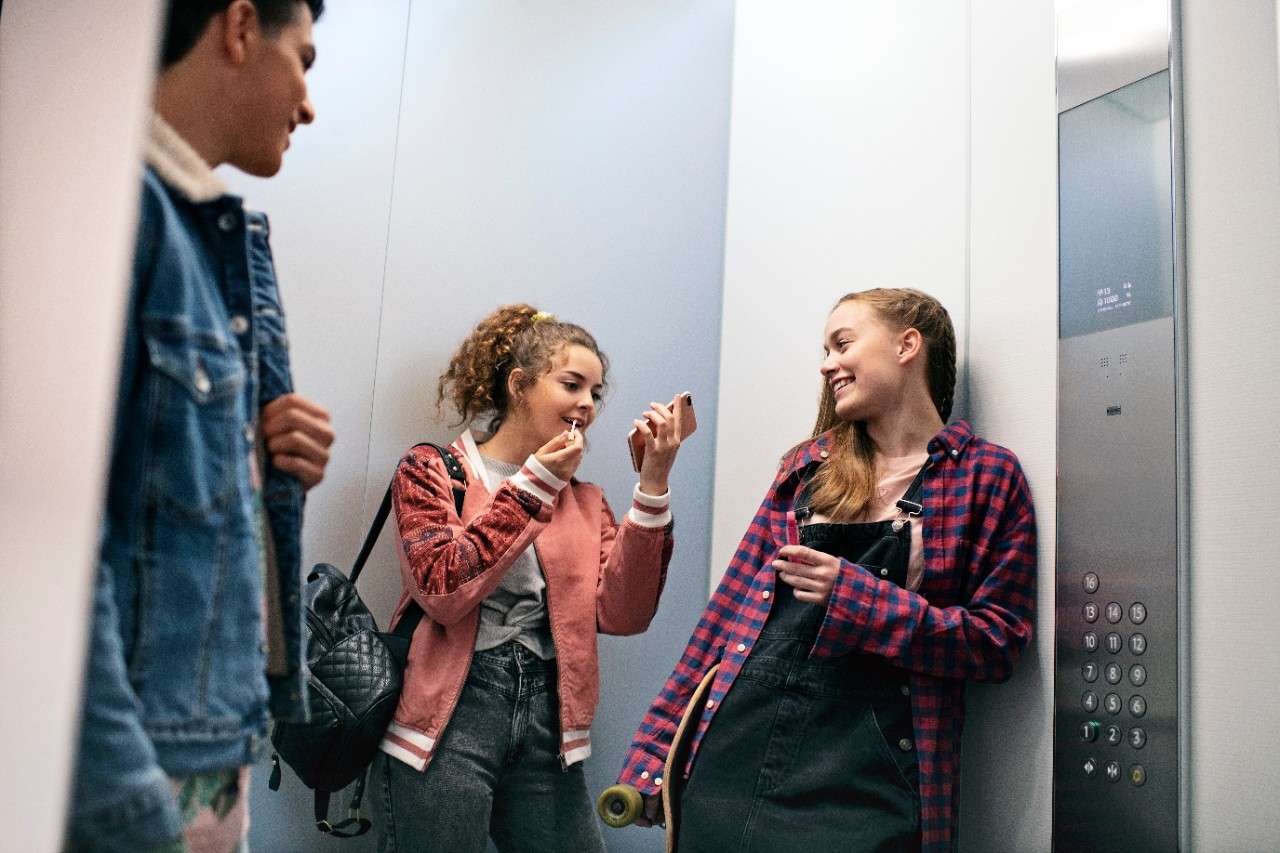 KONE understands the importance of energy saving and efficient equipment for universities and schools. Furthermore, KONE ensures the elevator equipment complies for usage by all passengers including wheelchair passengers or differently abled passengers.
KONE TranSys is a specifically designed product for the transport of goods and freight along with passengers. This Machine Room Less (MRL) solution is ideal for warehouse complex, distribution centres and factories whereby a machine room cannot be constructed.
How can we help you? Please fill in the form and we'll contact you as soon as possible.